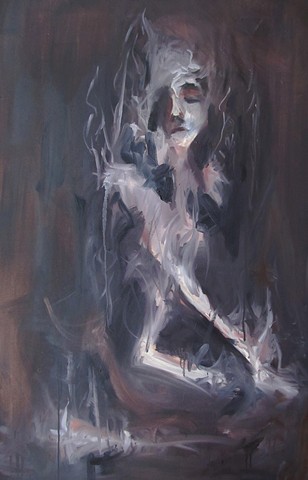 My current practice is invested in multiple outlets oil painting on canvas, woodwork, and some charcoal drawings. In my structure paintings, images of ambiguous frameworks seem incapable of supporting anything but themselves. The image of the painted frameworks appears unfinished, almost as if they were the skeletal structure of a building that lost funding and was left at that exact moment of abandonment. These works speak to the equivocal nature of Painting, that paintings are never finished only abandoned. The paintings are analogous to mental structures in mental spaces an offering that things transition and functioning as an analogy to the façade of persona and stability.
In my figurative paintings I also pull from a similar interest, I often consider when the moment of abandonment occurs in a painting. I wipe away layers of oil paint only to leave a trace of the figure that is left. The balance comes when the figure is legible but not completely depicted.
Recently I've also been investing time in reclaimed woodwork. I've always built my own painting frames and stretchers and have had an interest in making furniture. I have been using old wood from furniture, pallets, and flooring to create new uses such as wine racks, tables, etc. As an artist my craft is a high value to me and expressing this in multiple outlets provides a huge growth and sense of pride.